Kipling Station Condos by Centrecourt is a stunning luxury community located in downtown Etobicoke that boasts great transit options, proximity to major highways, an incredible growth story, and affordability that makes it a great investment opportunity.
Multi-Modal Connectivity
Located just a two-minute walk from the Kipling Transit Hub, Kipling Station Condos offers its residents unmatched transit convenience. The Kipling Transit Hub is a multi-modal transit hub that connects residents to more than 10 bus routes, GO, TTC and MiWay transit providers, and express access to Pearson Airport in just 15 minutes. With the recent multi-million dollar renovation, Kipling Transit Hub is now a state-of-the-art facility that provides residents with a comfortable and efficient transit experience.
The transit hub is the westernmost stop on the proposed Dundas Bus Rapid Transit (BRT) corridor, which will connect Etobicoke and Mississauga City Centres. Construction of the BRT is expected to start in 2025, providing residents with even faster and more convenient transit options. Additionally, they have quick access to two major highways, the Gardiner Expressway and Highway 427, which can take them anywhere in the GTA. Moreover, downtown Toronto is just 30 minutes away, making Kipling Station Condos an ideal location for commuters.
Affordable Luxury
One of the most significant advantages of Kipling Station Condos is its affordability. CentreCourt has been one of the most active developers in the GTA over the last decade, and they pride themselves on prudently allocating their capital and acquiring land at attractive price points. Their in-house construction team consistently delivers their projects on schedule and on budget, keeping costs down and adhering to a tight schedule. This allows CentreCourt to sell its projects, like Kipling Station Condos, at attractive price points.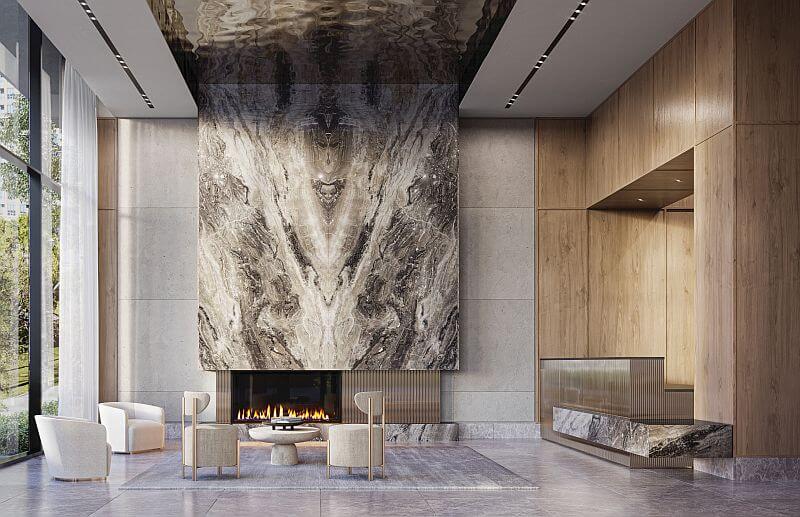 Despite its affordability, Kipling Station Condos is a luxury building that offers top-notch amenities. The suites and amenities were designed by renowned consultants, including B+H Architects and Figure3 interior design. The tower features 22,000 square feet of amenity space, including 11,000 square feet of outdoor amenities such as an outdoor lounge with seating areas and TVs, daybeds and cabanas, BBQs with a dining area, firepit and lounge area, garden and outdoor dog run area. Indoor amenities span 11,000 square feet and include a fitness centre, co-working space and private boardrooms, Zoom/social media rooms, hosting lounge and party room, guest suites, and a pet wash and grooming station. The tower will also feature a Cleveland Clinic virtual clinic, which gives all residents access to timely virtual doctor appointments via a dedicated diagnostics room.
The Next Hot Spot
Downtown Etobicoke is rapidly growing, with 35+ residential development applications/approvals currently underway. Kipling Station Condos are located in the heart of downtown Etobicoke, making them an excellent investment opportunity. The new Etobicoke Civic Centre, a sprawling facility that will feature 760,000 square feet across a community centre space, fitness studios, an aquatic centre, office space, and outdoor gathering areas, will anchor downtown Etobicoke.
CentreCourt has a reputation for selecting great sites in up-and-coming areas of the city. They have shown a propensity for getting in on the ground floor in areas like VMC and Downtown East. And they are committed to Downtown Etobicoke, planning to launch multiple projects in this area over the next decade.
For residents who love retail therapy, Sherway Gardens is nearby, as well as several consignment shops and designer boutiques. The surrounding area has a plethora of educational options, including Etobicoke School of the Arts, Kingsway College Private School, Humber College, and U of T's Mississauga campus. Major employers like Acer Canada, PepsiCo, Nissan Canada, FedEx, Pearson Airport, and Cinespace Film Studios are also in close proximity.
To learn more about this project, please visit kiplingstation.com.